Achieve.
Impact.
Together.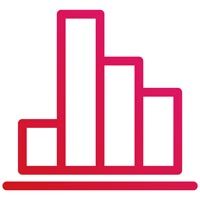 Business Analytics is the art of combining, analyzing, and applying data to generate actionable insights and get the most value out of your data.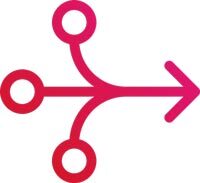 Making unstructured data understandable and managed by creating a data catalog that contains business term definitions and ownership.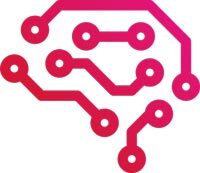 Applying algorithms to your data based on machine learning principles to make data-driven predictions and optimizations.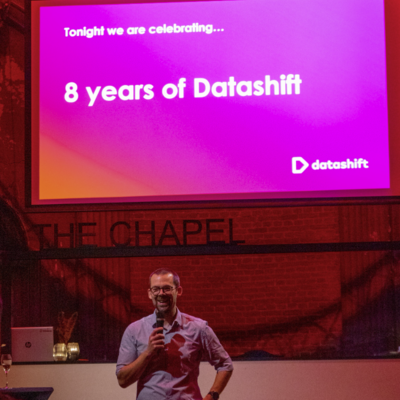 02.02.2023
8 years of Datashift
Last month we celebrated 8 years of Datashift. That were 8 years of growth, 8 years of great colleagues and exciting projects. We reminisced about the good times but also looked forward to what the future has in store for Datashift... And we are excited!
04.01.2023
New colleagues entered the building
New Datashifters have entered the building 😃 Yesterday, we welcomed 8 new colleagues into our team. Together they embark on a Datashift Bootcamp to get more insight in who we are, and what we are doing. By the way, we expect 6 new colleagues later this month.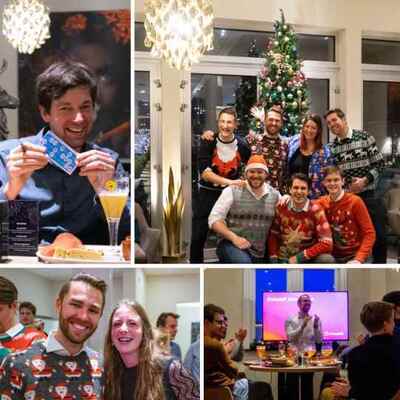 02.01.2023
Datashift Xmass Party
We wish everyone a great start for 2023! Before looking forward, here are some pictures of our Datashift Christmas drink. Datashifters and Datashifters-to-be gathered for a festive Datashift closure of 2022.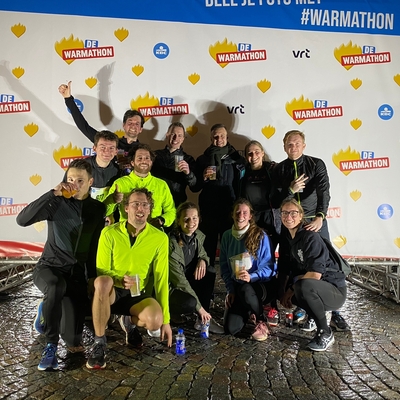 21.12.2022
Datashift @ Warmathon 2022
Some of our colleagues came together and ran/walked the Warmathon for the #WarmsteWeek in Stad Mechelen. Despite the wintry weather, it was great fun! Our team is on fire 🔥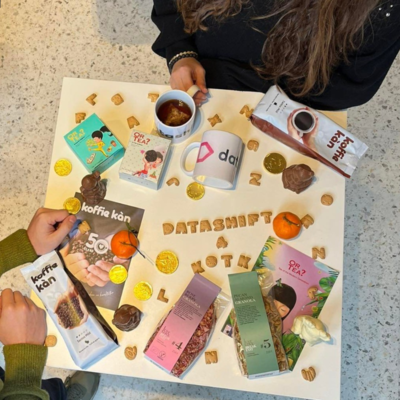 07.12.2022
Coffee, Tea & Granola for the good cause
In march Team Datashift is represented for the third time at the 100 Kilometre Run for Kom op tegen Kanker VZW. To participate in the race we are collecting money to fund further cancer research. This year, we are selling coffee, tea and granola.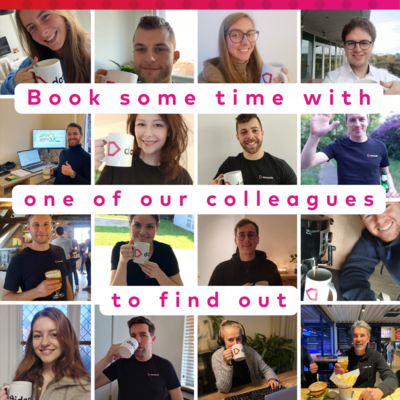 01.12.2022
Grab a gluhwein with Datashift
During the grab a gluhwein* campaign our colleagues open up their agenda to have a chat with you about us. You get the chance to talk with any of our colleagues about how we work, what we like,... No recruiter trying to win your heart, a sales pitch or whatever.
01.11.2022
Data Citizens in San Diego
Datashift crew has arrived at Collibra #datacitizens22 in San Diego. Our colleagues Fen and Philippe represented Datashift at this great event. They enyoed meeting old and new data friends! #datadriven #datagovernance #sandiego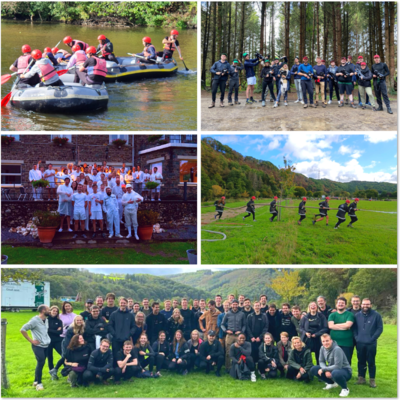 03.10.2022
Our datatrip never misses!
Bullseye! Last weekend was definitely a hit. A heavily marked weekend in the agenda of every Datashifter, our Datatrip. An active weekend in the south of Belgium with various adventurous activities in the daytime, a delicious barbecue and a 'little' party: classic ingredients of our yearly Datatrip!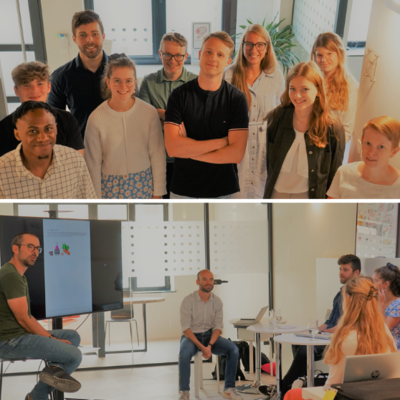 01.09.2022
September one, Datashift plus ten
September first arrived, 10 new colleagues have arrived... And for the Datashift-class of '22, it is back to school. The next three weeks our new colleagues will learn all about what we do at Datashift and how we do it, in our very own Datashift Bootcamp.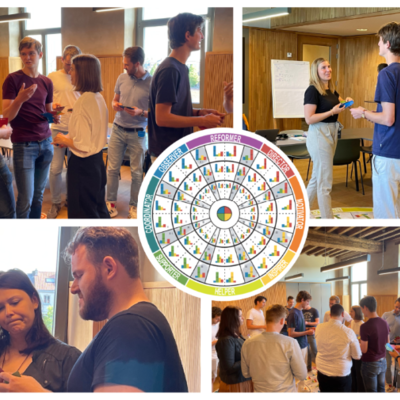 01.07.2022
A colorful team
Getting to know yourself and colleagues better was the main objective of last week's Insights training. Our consultants went beyond the colors and got to know better means of communication and ways in which they can grow.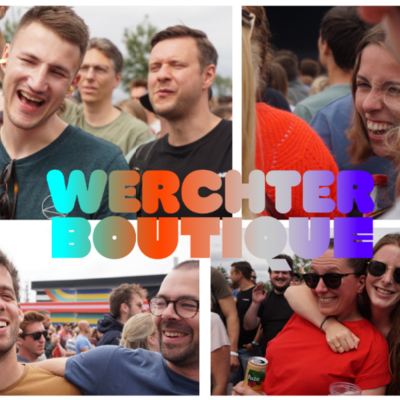 21.06.2022
Werchter Boutique
Headliners of Werchter Boutique? Stromae, Gorillaz,... & Datashift? We had a great time!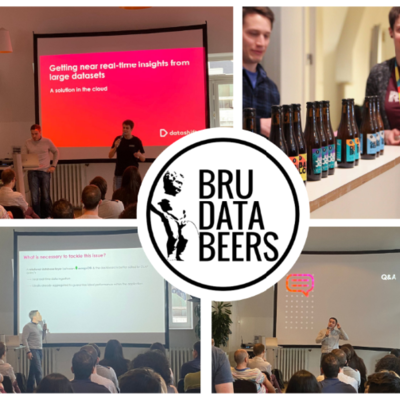 20.05.2022
Beers & Data, We like
Our very own Cedric Raeymaeckers represented us at DataBeers Brussels. He shared insights on getting real-time insights from large datasets. Great beers, great insights, perfect evening!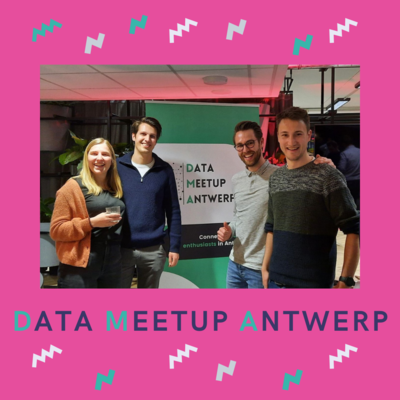 14.04.2022
Data Meetup Antwerp
Team Datashift represented at Data Meetup Antwerp. Topic of this meetup was the Data Governance tool of Microsoft, #AzurePurview. As always we're looking forward to assist clients making an entrance into the world of Data Governance.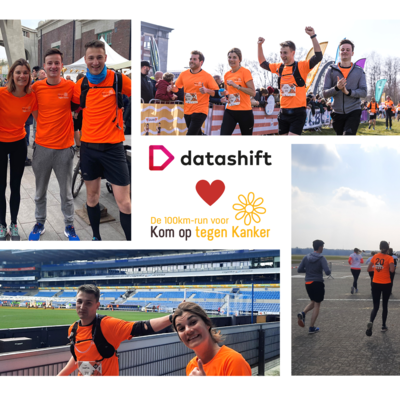 21.03.2022
100 kilometres, We made it!
Our Datashift team ran 100 kilometres this weekend for @komop_tegenkanker in Genk! That weekend in total 1.217.500 euros were raised to fund #cancerresearch and has a direct impact on the life quality and survival rate of people battling cancer. Very proud we could be part of this beautiful event, a big thank you to all people that helped us raise the necessary funds.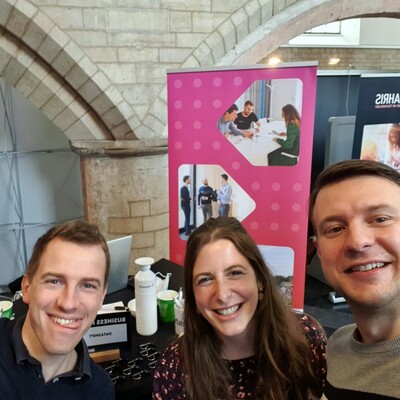 24.02.2022
Go get 'em tigers! 🐯🐯🐯
We are showing our pink colors at the Business IT Fair in Leuven. Our colleagues Steve, Kris and Lore are looking for ambitious (almost) graduates with a passion for data.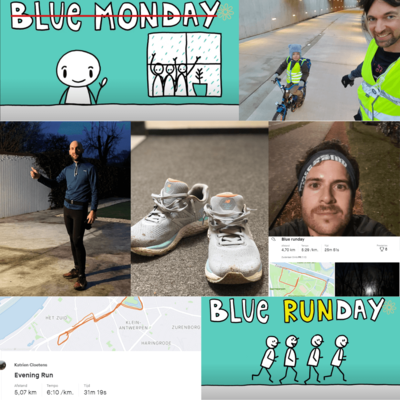 18.01.2022
Blue Runday
Yesterday, 17th of January 2022 was called Blue Monday. But together with Kom op tegen Kanker, we got motivated to put on our running shoes and turn this #BlueMonday into a #BlueRunday!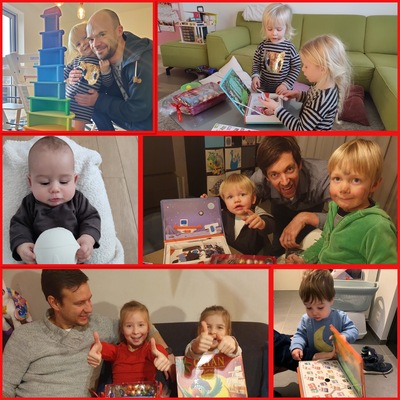 06.12.2021
Only good Datashift kids this year
Only good kids this year 😄🎁! Wishing you a very happy St. Nicholas Day! Thank you for these lovely pictures Michel, Fen, Pieter, Kris and Vanessa! 📷 #SaintNicholas #Happy #DatashiftFamily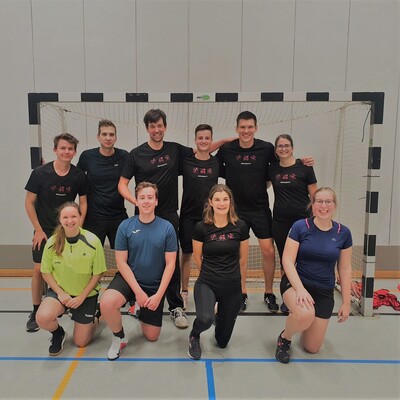 16.11.2021
The one with the handball game
Earlier this month some of our sportive colleagues went out for a game of handball, not to confuse with rugby 😉 Initiation was given by our old-colleague @valeriesacton. She displayed her enthousiasm and taught how to play the game. What a great way to catch up!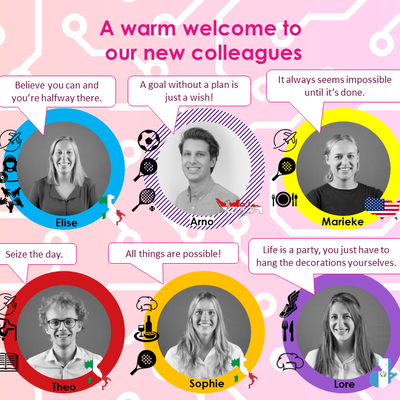 14.10.2021
A warm welcome to new colleagues
In September, we organized our yearly bootcamp where the fresh starters could taste from the different flavours that the world of data has to offer. We had 6 fresh faces joining our squad! All learned more about #BusinessInteligence, #DataModelling, #DataVisualization, #DataEngineering, #DataGovernance and General project work at Datashift.
12.10.2021
Run, Datashift, Run!
Sunday, runday! 🏃🏻🏃🏻🏃🏻 Datashift was represented by some sportive colleagues at the 10 miles of Antwerp. During the sunny afternoon they ran a little more than 16 kilometres through the Kennedytunnel, Antwerp city center and last but not least the Waaslandtunnel. 🥵 We'll be back in April! #team #sports #running #10miles #Antwerp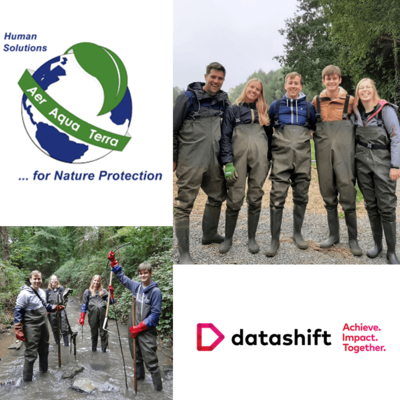 05.10.2021
River Cleanup @ Genappe
Together with our client's #DataGovernance team at BNP Paribas Fortis, Elise, Sophie, Martijn, Thomas and Philippe joined a #RiverCleanup session in Genappe. ♒🧹🏞 In #collaboration with the non-profit Aer Aqua Terra asbl they collected waste from the Dijle and were surprised by the amount of rubble they gathered. A lot of waste was removed but still much more to go: we strongly encourage to help one of the river cleaning organisations as well! 💪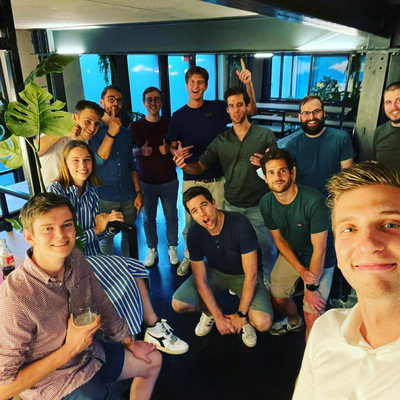 16.09.2021
Time to celebrate! 🎉
As we shared a few months ago, we were so happy to receive the Collibra Customer Impact of The Year Award 🏆🎉! A celebration in person with the whole Datashift Collibra team was therefore the ultimate. We enjoyed a nice evening with tapas and drinks at De Vleeshalle in our hometown #Mechelen. ¡Salud! 🥂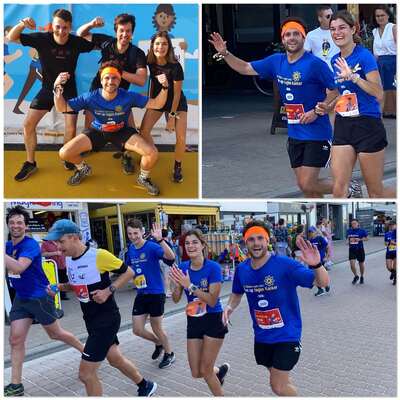 07.09.2021
Our Datashift team @ the KOTK 100km run in Koksijde 🏃‍♀️🏃‍♂️
Last Sunday, 4 of our colleagues participated in the "100 km Kom Op Tegen Kanker run" in Koksijde 🏃‍♀️🏃‍♂️. It is the first time that we took part of this major initiative that collected 1,250,000 euros for the benefit of cancer research. 👊 So proud of Martijn, Pieter, Katrien and Bastiaan who ran 10, 20, 30 and 40 km respectively! Respect for this great achievement!! 👏 Next year again with 2 teams? 😉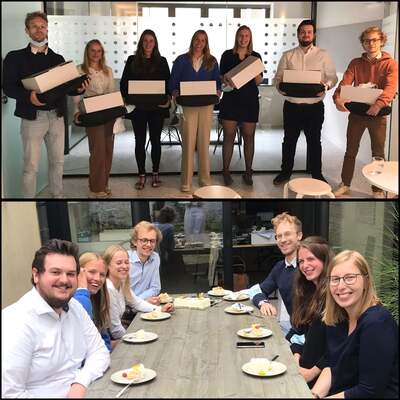 02.09.2021
7 new colleagues ready for Datashift bootcamp!
Yesterday we welcomed no less than 7 new #colleagues!! 🤩 At first a bit uneasy, but change will come quickly once they've gone through the famous Datashift #Bootcamp. 👊 And after a productive first day at the office, the cherry on top was a delicious treat (thank you Visser & Van Baars B.V. for the cake). Good luck and welcome to our team Elise, Tijmen, Frederik, Marieke, Lore, Théo and Sophie!!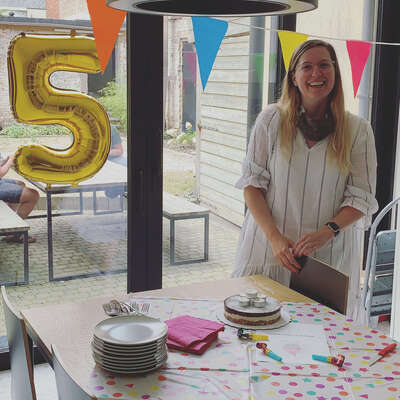 04.08.2021
Happy 5th anniversary, Nathalie!
Congrats with your 5th work anniversary at Datashift, Nathalie! It is a true honor to have you aboard!! 👏 5 years ago, you became our second employee. You truly believed in the Datashift story from the very beginning and you were sure we were going to do great things! Now you are one of our more than 40 employees and still rocking on as one of our best data experts! Looking forward to what's coming next! 😃 #anniversary #birthdaycake #celebrating #smile #happy #happybirthday #businessinteligence #consultant #team
References
What our customers say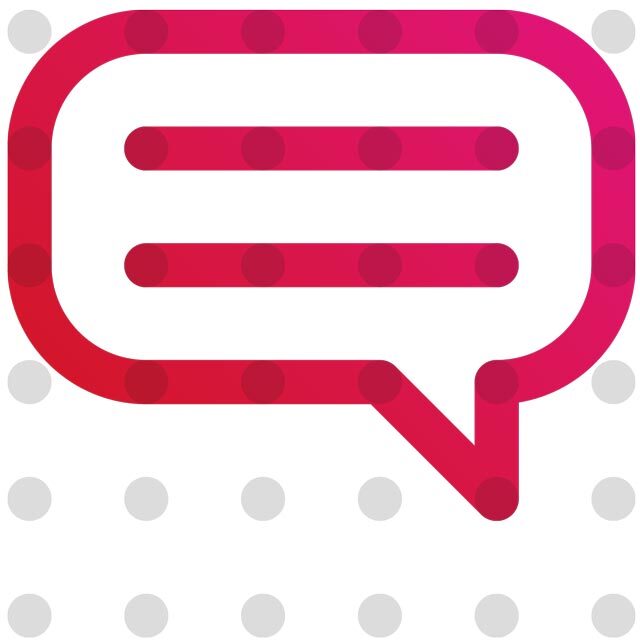 I have been working with Nico and his team since 4 years. I must say that we built a very fruitful partnership. I really appreciate the efficiency of the Datashift team and the openness to discuss and solve issues.
Dimitri Devlamminck
Head of CoE Data Governance
BNP Paribas Fortis
Together with the data engineers of datashift we have build several data marts that are ready to use. What differentiates datashift data engineers from the rest is they also have a business mindset next to their board technical expertise. Working together was always a fun experience in a nice atmosphere.
Veerle Liebaut
Data, Insights and Analytics manager
D'Ieteren
From understanding the power of data for our organisation to realizing an impact with concrete dashboards and analysis, Datashift helped us from the start in our data journey. I especially appreciate their pragmatic, flexible and transparent way of working.
Ken Rottiers
Digital Project Manager
Messer Western-Europe
We worked together with the Datashift team on the implementation of Collibra. They gave us perspective how to implement the system, deep expertise on the configuration of the operating model. Furthermore, they shared best practices and experience how to define the basics. We enjoyed the collaboration with the team members and we learned a lot.
Gabriella Szabóné
Data Governance Project Manager
OTP Bank
I can always rely on positive minded colleagues from Datashift that are willing to put in the extra mile, think with us about solutions to problems and keep questioning our priorities so that we are pushed to think about added value. Working with Datashift is not only hiring an extra pair of hands, it's an investment to become a better company ourselves.
Angel Albedalejo Jimenez
IT Data Manager
FCR Media
Datashift has been a great partner in our data intelligence journey. They were not only operational on day 1 thanks to their impressive Collibra expertise, also throughout the project, they have proactively shared their experience and provide guidance on the best ways to make data work. They have demonstrated great flexibility and stakeholder management during our governance project.
Arthur Burkhardt
Data & Knowledge Management Lead
UCB
Working together with Datashift for several years in different capabilities, in my current role I reached out to help bringing tangible results with Data Governance. From day 1 the team showed great commitment to make it happen. There was a clear focus on concrete results whilst sharing their experience and expertise. Pragmatism, flexibility and transparency are not consulting slogans but are truly cornerstones of the Datashift way of working. It is a privilege to have a partner as Datashift on our Data Governance journey.
Koenraad D'Hondt
Data Architecture & Governance CoE Lead
Telenet
At an incredible pace, Datashift geared us up with the required architecture, knowledge and tools to be able to steer our business with insights. They easily switched in priorities when the business needed different focus and clearly understood the importance of a hands-on approach at the start, evolving into a strategic and future proof data roadmap later on. The dynamic and experienced 'Datashifters' easily blended into our team and were vital for our desired commercial success.
Bart Van Den Langenbergh
Head of Marketing & Sales
Streamz
Datashift stands for a hands-on, no-nonsense approach. We can always count on their extensive expertise, their helicopter vision and their structured and determined actions. Moreover, they are external colleagues who fit in perfectly with the team and are always prepared to go that extra mile. An indispensable support for our daily business!
Jason Valgaerts
Commex Manager EUMS Cluster countries
Zambon NV/SA
We have been working together with Datashift since 2018 and they have successfully helped us with the adoption of Collibra in our organisation. Their expertise in designing and implementing workflows was particularly helpful for a number of use cases. For example, our Data Processing Register, our Policy Documents and our Business Glossary are all efficiently managed with the help of workflows. All in all, every single member of their team that we have worked with has provided tremendous support to our data governance initiative.
Joran Schaap
Data Governance Office
BNG Bank
Working together with Datashift has helped us gain insight into our business processes and make data accessible to our organization. Datashift is a reliable data partner who thoroughly understands our needs. We can count on professional cooperation built on mutual respect and trust, whether it relates to daily operations or tailor-made advice on data governance and strategy. This partnership transcends the customer-supplier level: it's a pleasure to work with Datashift.

Tinne Tack
Manager Business Intelligence
Rode Kruis-Vlaanderen
What matters for us is using data smart to continue growing our business and in the mean time keeping total cost of ownership reasonable. Datashift immediately understood our industry, current technological landscape and organizational challenges. They proved to be able to bring value as of day 1. And they do it in style: positive, enthusiastic and transparent. A partnership as it should be.
Koen Moermans
Business Analytics Coordinator
JBC
It is such a pleasure working with a partner that delivers high quality work on our Collibra implementation, but also functions as a sparring partner to help us push our Data Governance initiative further.
Zenobie Verkijk
Data Governance Specialist
BNG Bank
Leading a business intelligence project that touches all of our businesses, requires specific expertise. We asked Datashift to take up the challenge and they made it a success: high quality, timeline respected and 5% below budget. What's more to ask?

Bart Vervenne