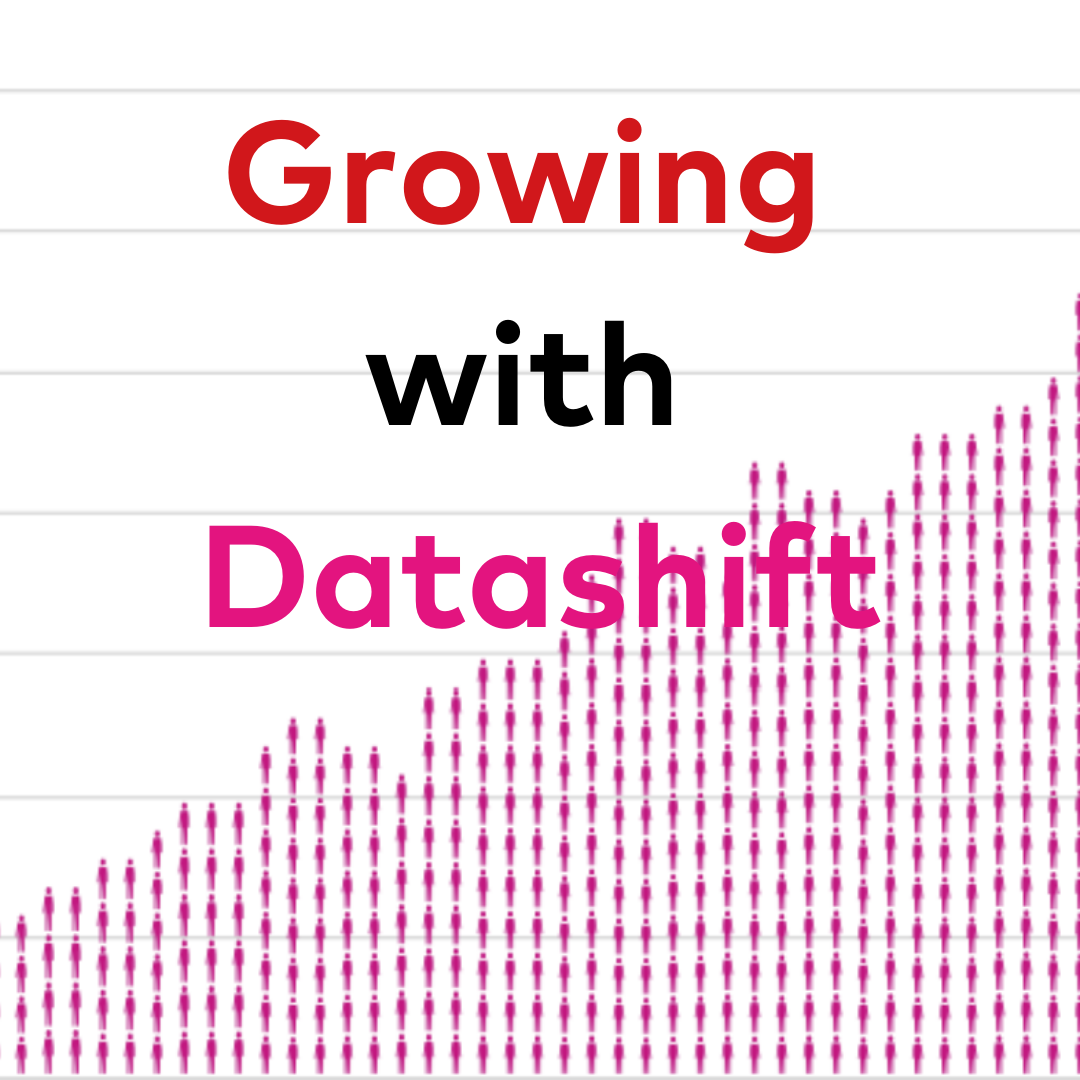 At Datashift you will have the opportunity to work in a fast-growing company within an highly entrepreneurial team where initiatives are highly valued and room is given to grow.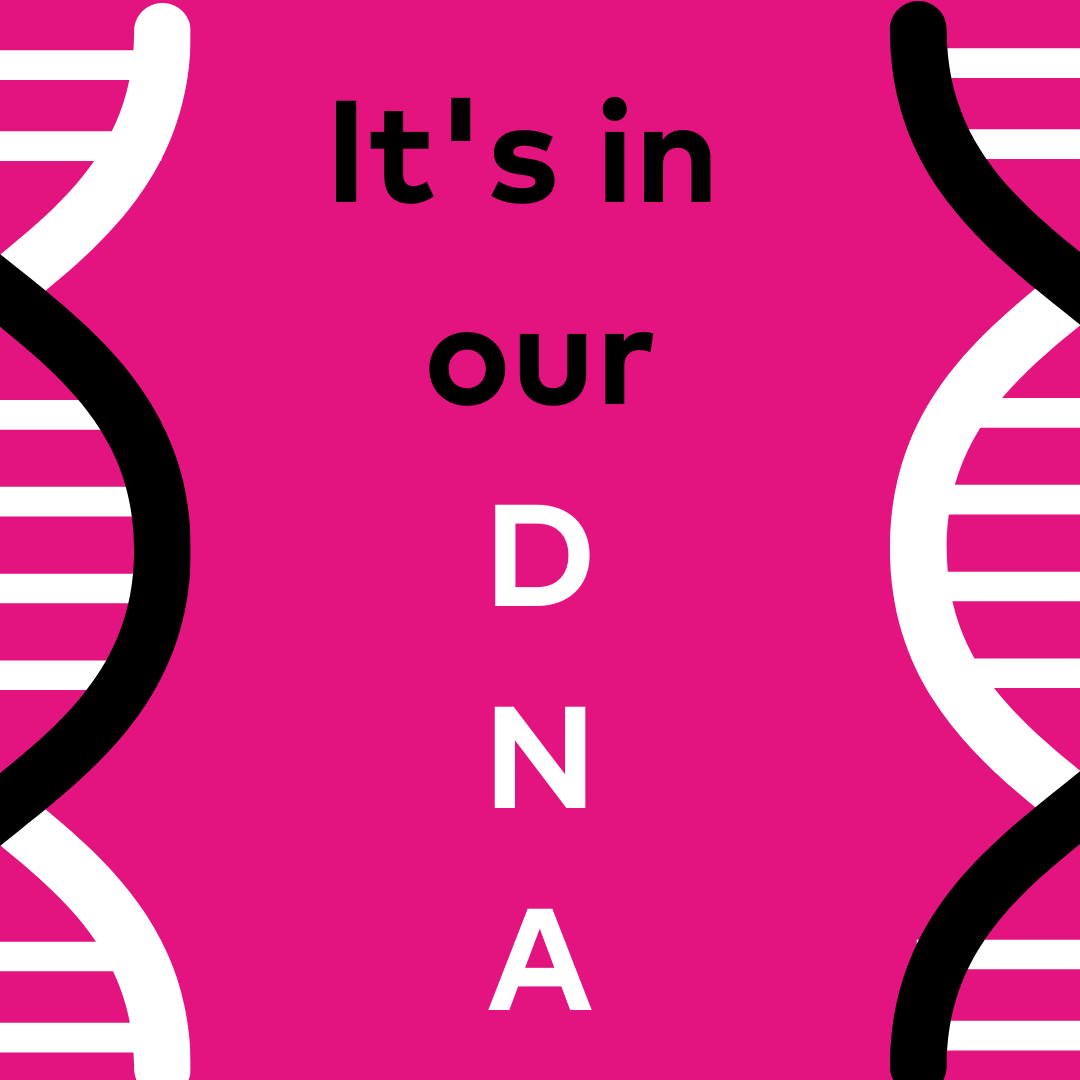 It's not in our DNA to work in a classical structure with fixed positions. We work in roles, and during a project these will depend on the client's needs, what the project is about, and your experience regarding that subject.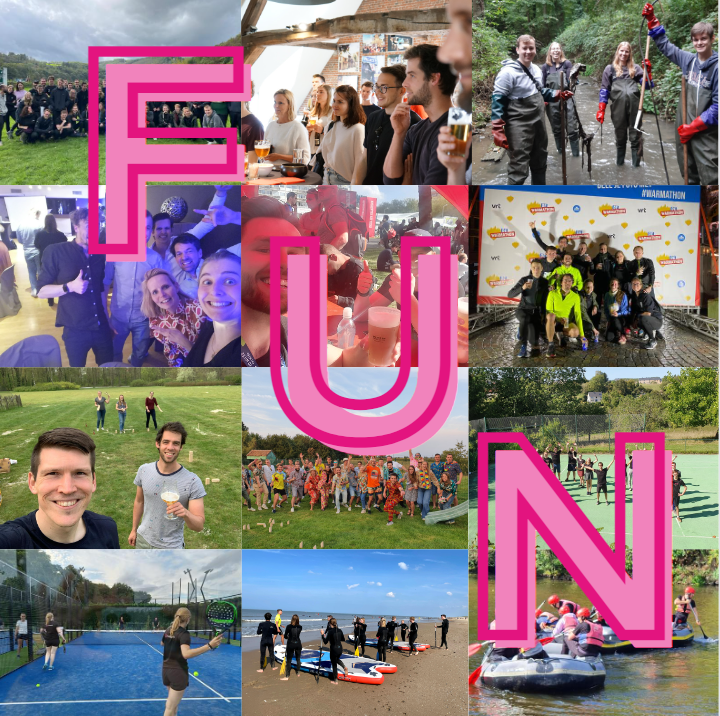 Next to our sport activities, we pride ourselves in having a lot of fun during the plenty team building activities.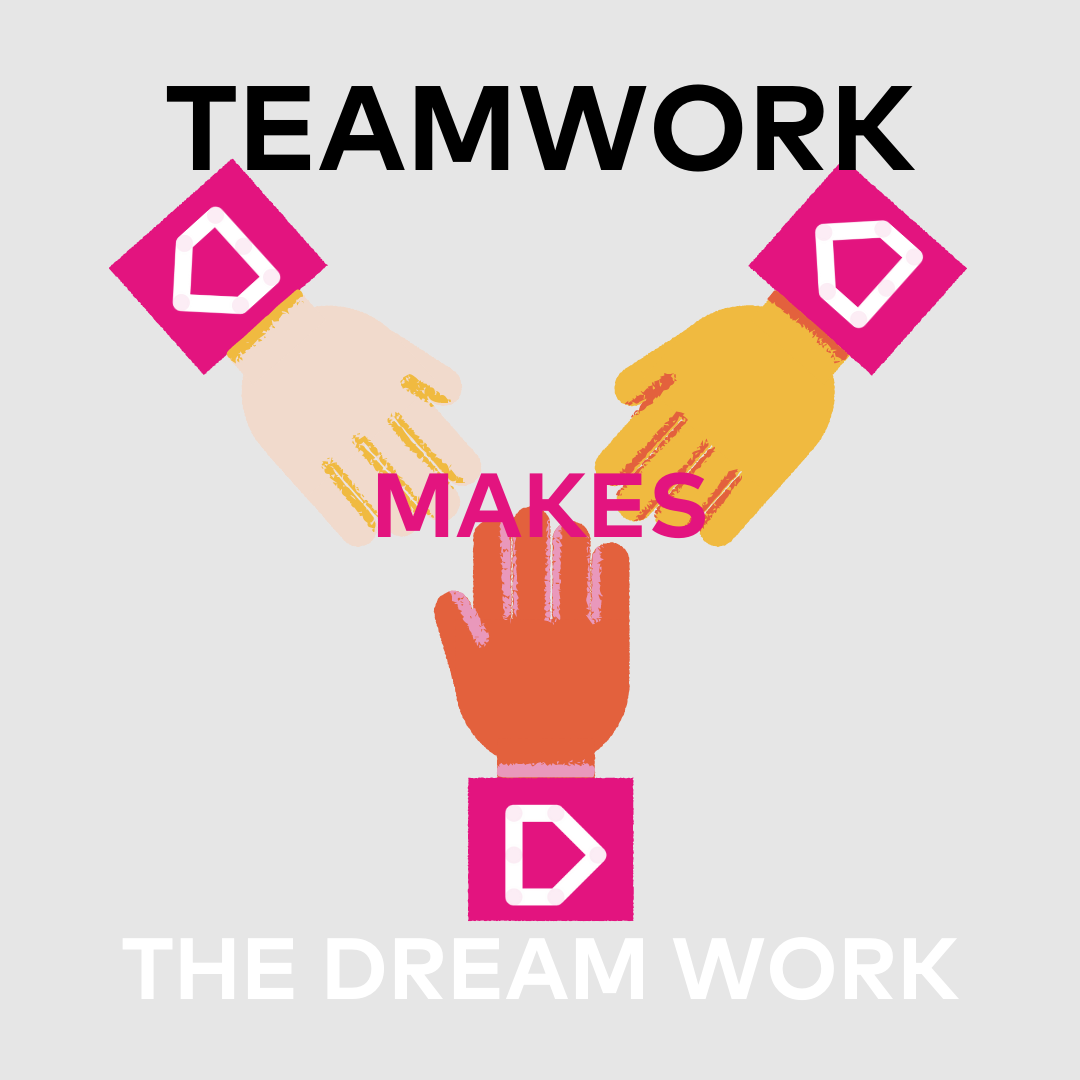 We're all about reaching success as a team. No big job titles or layered organization.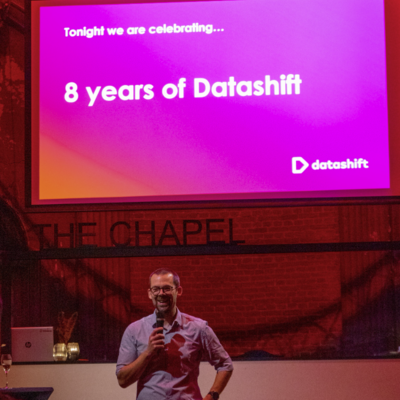 02.02.2023
8 years of Datashift
Last month we celebrated 8 years of Datashift. That were 8 years of growth, 8 years of great colleagues and exciting projects. We reminisced about the good times but also looked forward to what the future has in store for Datashift... And we are excited!
04.01.2023
New colleagues entered the building
New Datashifters have entered the building 😃 Yesterday, we welcomed 8 new colleagues into our team. Together they embark on a Datashift Bootcamp to get more insight in who we are, and what we are doing. By the way, we expect 6 new colleagues later this month.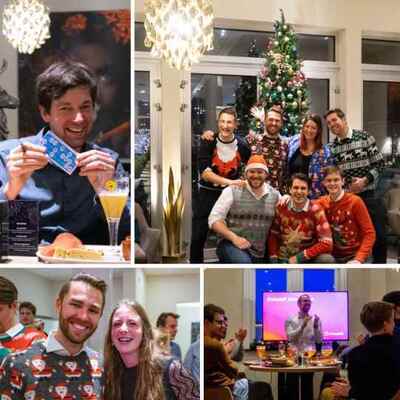 02.01.2023
Datashift Xmass Party
We wish everyone a great start for 2023! Before looking forward, here are some pictures of our Datashift Christmas drink. Datashifters and Datashifters-to-be gathered for a festive Datashift closure of 2022.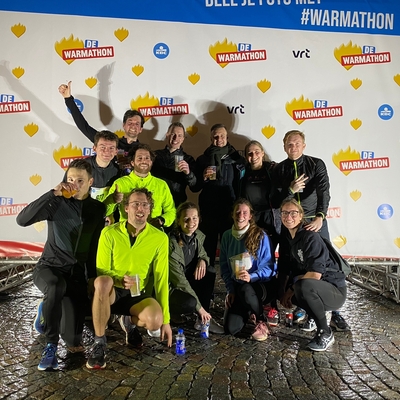 21.12.2022
Datashift @ Warmathon 2022
Some of our colleagues came together and ran/walked the Warmathon for the #WarmsteWeek in Stad Mechelen. Despite the wintry weather, it was great fun! Our team is on fire 🔥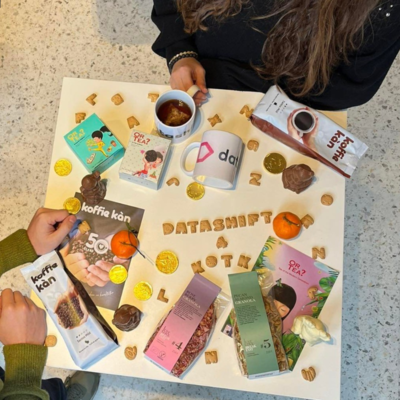 07.12.2022
Coffee, Tea & Granola for the good cause
In march Team Datashift is represented for the third time at the 100 Kilometre Run for Kom op tegen Kanker VZW. To participate in the race we are collecting money to fund further cancer research. This year, we are selling coffee, tea and granola.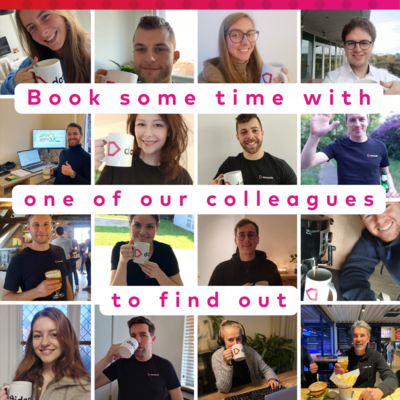 01.12.2022
Grab a gluhwein with Datashift
During the grab a gluhwein* campaign our colleagues open up their agenda to have a chat with you about us. You get the chance to talk with any of our colleagues about how we work, what we like,... No recruiter trying to win your heart, a sales pitch or whatever.
01.11.2022
Data Citizens in San Diego
Datashift crew has arrived at Collibra #datacitizens22 in San Diego. Our colleagues Fen and Philippe represented Datashift at this great event. They enyoed meeting old and new data friends! #datadriven #datagovernance #sandiego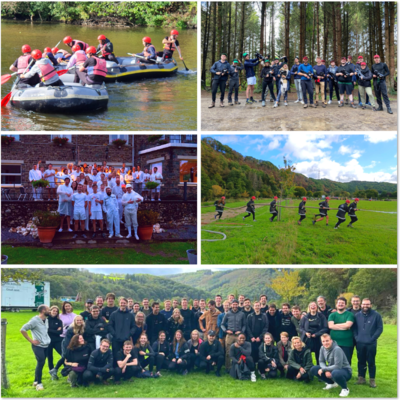 03.10.2022
Our datatrip never misses!
Bullseye! Last weekend was definitely a hit. A heavily marked weekend in the agenda of every Datashifter, our Datatrip. An active weekend in the south of Belgium with various adventurous activities in the daytime, a delicious barbecue and a 'little' party: classic ingredients of our yearly Datatrip!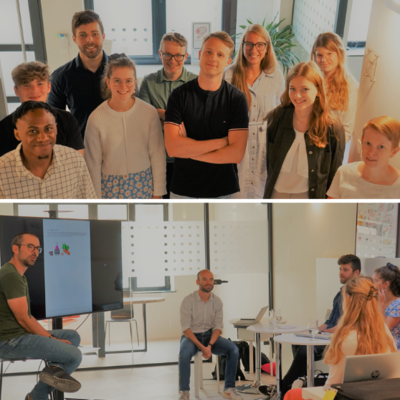 01.09.2022
September one, Datashift plus ten
September first arrived, 10 new colleagues have arrived... And for the Datashift-class of '22, it is back to school. The next three weeks our new colleagues will learn all about what we do at Datashift and how we do it, in our very own Datashift Bootcamp.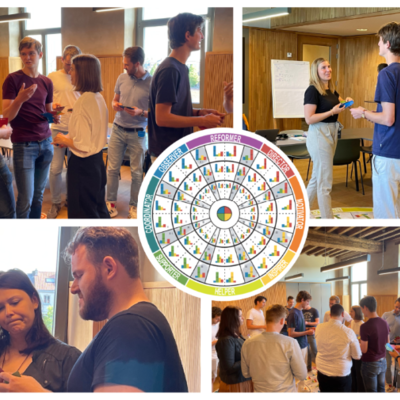 01.07.2022
A colorful team
Getting to know yourself and colleagues better was the main objective of last week's Insights training. Our consultants went beyond the colors and got to know better means of communication and ways in which they can grow.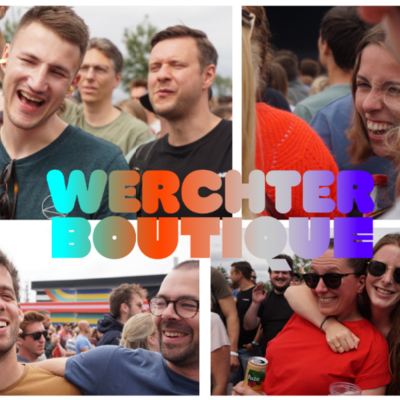 21.06.2022
Werchter Boutique
Headliners of Werchter Boutique? Stromae, Gorillaz,... & Datashift? We had a great time!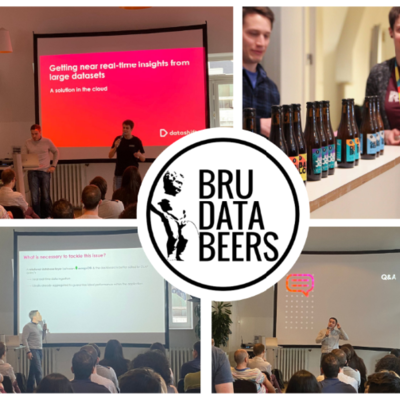 20.05.2022
Beers & Data, We like
Our very own Cedric Raeymaeckers represented us at DataBeers Brussels. He shared insights on getting real-time insights from large datasets. Great beers, great insights, perfect evening!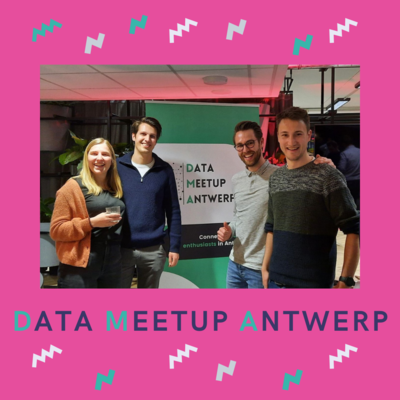 14.04.2022
Data Meetup Antwerp
Team Datashift represented at Data Meetup Antwerp. Topic of this meetup was the Data Governance tool of Microsoft, #AzurePurview. As always we're looking forward to assist clients making an entrance into the world of Data Governance.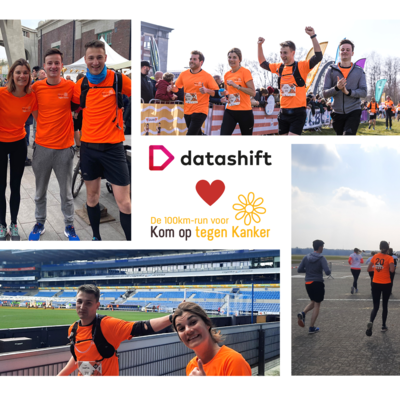 21.03.2022
100 kilometres, We made it!
Our Datashift team ran 100 kilometres this weekend for @komop_tegenkanker in Genk! That weekend in total 1.217.500 euros were raised to fund #cancerresearch and has a direct impact on the life quality and survival rate of people battling cancer. Very proud we could be part of this beautiful event, a big thank you to all people that helped us raise the necessary funds.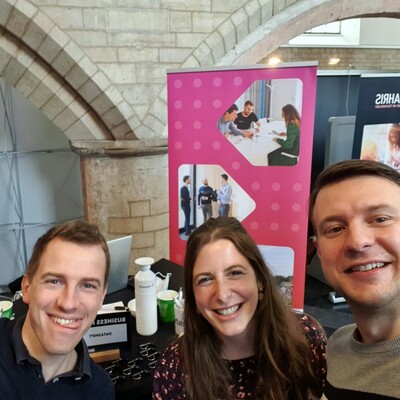 24.02.2022
Go get 'em tigers! 🐯🐯🐯
We are showing our pink colors at the Business IT Fair in Leuven. Our colleagues Steve, Kris and Lore are looking for ambitious (almost) graduates with a passion for data.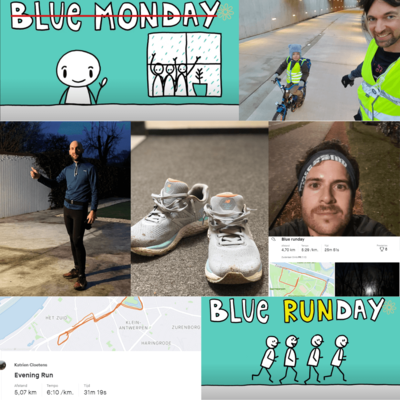 18.01.2022
Blue Runday
Yesterday, 17th of January 2022 was called Blue Monday. But together with Kom op tegen Kanker, we got motivated to put on our running shoes and turn this #BlueMonday into a #BlueRunday!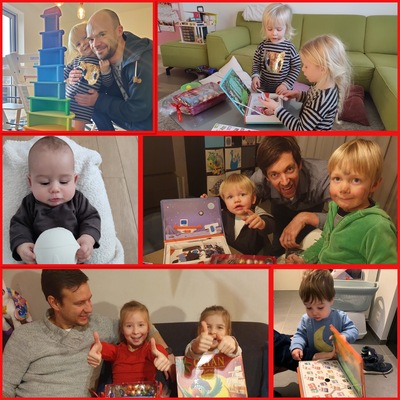 06.12.2021
Only good Datashift kids this year
Only good kids this year 😄🎁! Wishing you a very happy St. Nicholas Day! Thank you for these lovely pictures Michel, Fen, Pieter, Kris and Vanessa! 📷 #SaintNicholas #Happy #DatashiftFamily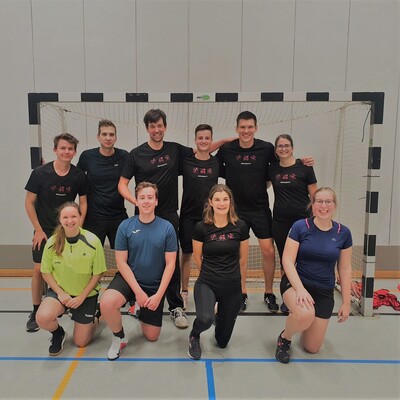 16.11.2021
The one with the handball game
Earlier this month some of our sportive colleagues went out for a game of handball, not to confuse with rugby 😉 Initiation was given by our old-colleague @valeriesacton. She displayed her enthousiasm and taught how to play the game. What a great way to catch up!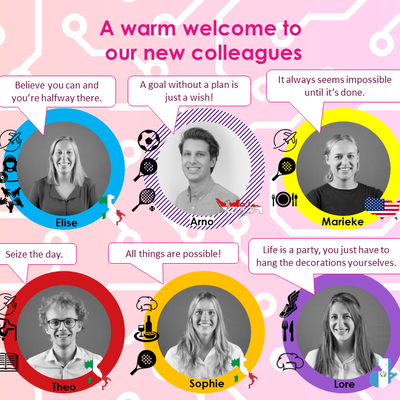 14.10.2021
A warm welcome to new colleagues
In September, we organized our yearly bootcamp where the fresh starters could taste from the different flavours that the world of data has to offer. We had 6 fresh faces joining our squad! All learned more about #BusinessInteligence, #DataModelling, #DataVisualization, #DataEngineering, #DataGovernance and General project work at Datashift.
12.10.2021
Run, Datashift, Run!
Sunday, runday! 🏃🏻🏃🏻🏃🏻 Datashift was represented by some sportive colleagues at the 10 miles of Antwerp. During the sunny afternoon they ran a little more than 16 kilometres through the Kennedytunnel, Antwerp city center and last but not least the Waaslandtunnel. 🥵 We'll be back in April! #team #sports #running #10miles #Antwerp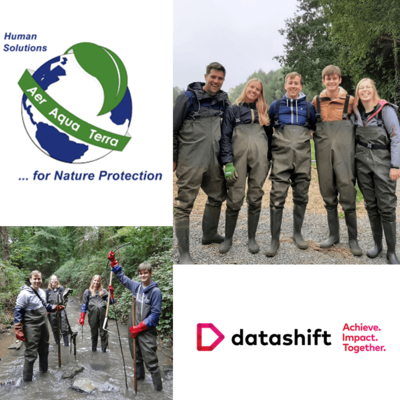 05.10.2021
River Cleanup @ Genappe
Together with our client's #DataGovernance team at BNP Paribas Fortis, Elise, Sophie, Martijn, Thomas and Philippe joined a #RiverCleanup session in Genappe. ♒🧹🏞 In #collaboration with the non-profit Aer Aqua Terra asbl they collected waste from the Dijle and were surprised by the amount of rubble they gathered. A lot of waste was removed but still much more to go: we strongly encourage to help one of the river cleaning organisations as well! 💪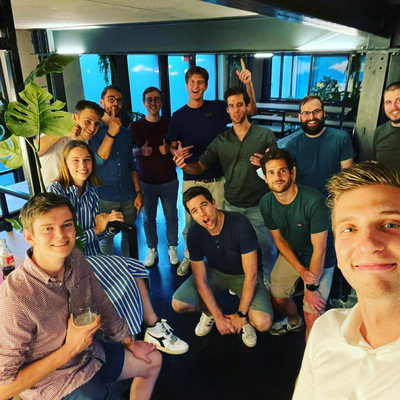 16.09.2021
Time to celebrate! 🎉
As we shared a few months ago, we were so happy to receive the Collibra Customer Impact of The Year Award 🏆🎉! A celebration in person with the whole Datashift Collibra team was therefore the ultimate. We enjoyed a nice evening with tapas and drinks at De Vleeshalle in our hometown #Mechelen. ¡Salud! 🥂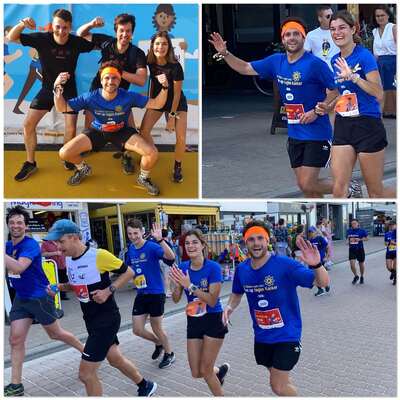 07.09.2021
Our Datashift team @ the KOTK 100km run in Koksijde 🏃‍♀️🏃‍♂️
Last Sunday, 4 of our colleagues participated in the "100 km Kom Op Tegen Kanker run" in Koksijde 🏃‍♀️🏃‍♂️. It is the first time that we took part of this major initiative that collected 1,250,000 euros for the benefit of cancer research. 👊 So proud of Martijn, Pieter, Katrien and Bastiaan who ran 10, 20, 30 and 40 km respectively! Respect for this great achievement!! 👏 Next year again with 2 teams? 😉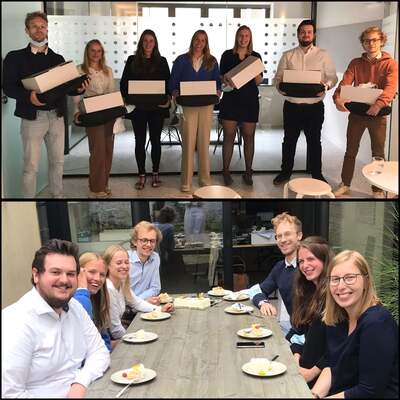 02.09.2021
7 new colleagues ready for Datashift bootcamp!
Yesterday we welcomed no less than 7 new #colleagues!! 🤩 At first a bit uneasy, but change will come quickly once they've gone through the famous Datashift #Bootcamp. 👊 And after a productive first day at the office, the cherry on top was a delicious treat (thank you Visser & Van Baars B.V. for the cake). Good luck and welcome to our team Elise, Tijmen, Frederik, Marieke, Lore, Théo and Sophie!!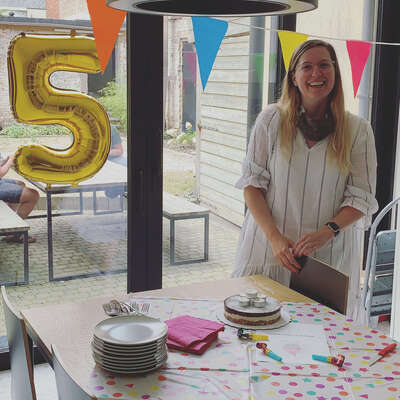 04.08.2021
Happy 5th anniversary, Nathalie!
Congrats with your 5th work anniversary at Datashift, Nathalie! It is a true honor to have you aboard!! 👏 5 years ago, you became our second employee. You truly believed in the Datashift story from the very beginning and you were sure we were going to do great things! Now you are one of our more than 40 employees and still rocking on as one of our best data experts! Looking forward to what's coming next! 😃 #anniversary #birthdaycake #celebrating #smile #happy #happybirthday #businessinteligence #consultant #team