Collibra Named Leader in The Forrester Wave Q3 2023
3 October 2023

The significance of being a Leader in The Forrester Wave cannot be overstated. Forrester's meticulous evaluation of data governance solution providers, encompassing 29 key criteria, enables data governance professionals to make informed decisions. Collibra's inclusion as one of only two vendors highlighted as a Leader, with the highest score for Current Offering, speaks volumes about its industry-leading capabilities.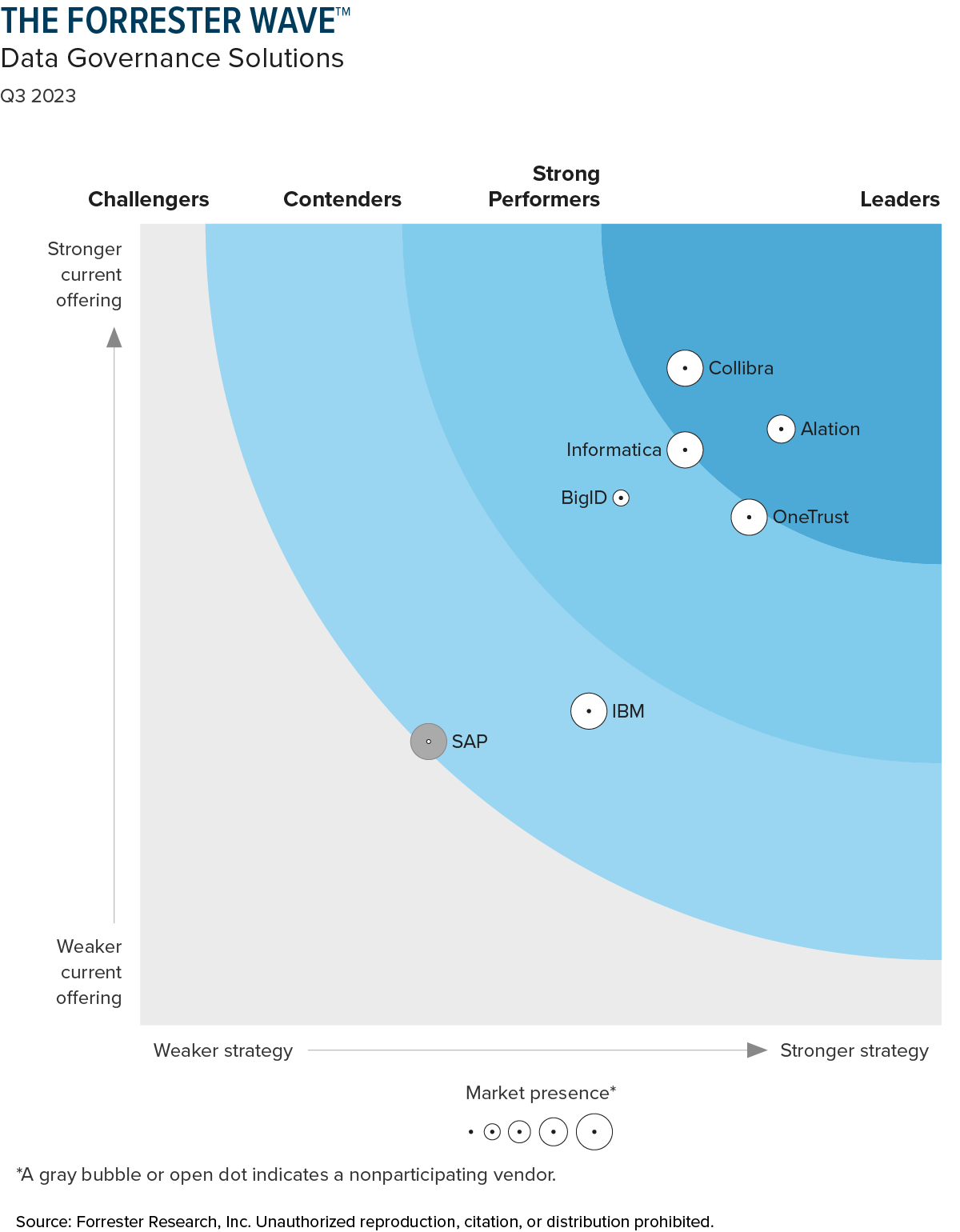 In this report, Forrester identifies the maturation of the data governance solution market since their last evaluation in Q3 2021. Data governance has transitioned from an emerging field to an established and mature one. Features such as data catalogs, policy management, and privacy and compliance modules are now considered core capabilities. Collibra's differentiation lies in its robust policy management, serving as a cornerstone for stewardship roles.
Collibra's vision revolves around providing a unified intelligent data platform that caters to diverse governance personas and a wide array of high-value use cases, accommodating varying maturity levels. Their roadmap includes AI-powered features, expanded integrations, and functional enhancements like data marketplace and security. Furthermore, Collibra places a strong emphasis on building a collaborative community and knowledge sharing.
In summary, Collibra's recognition as a Leader in The Forrester Wave Q3 2023 reaffirms its position as a trailblazer in the data governance landscape. Their strengths in stewardship management, community-building, and a forward-looking roadmap underscore their commitment to empowering organizations to harness the true potential of their data in an increasingly data-driven world. We are truly thankful for our partnership with Collibra and support businesses on their journey towards data governance excellence.
Looking for a implementation partner? Datashift is the number 1 partner in EMEA. Feel free to reach out for any questions.