Launching our Workflow as a Service offering for Collibra
22 September 2022

Collibra continues to be an amazing product. And it is not just us saying that: Collibra has been named a leader in the Gartner Magic Quadrant for Metadata Management solutions for several consecutive years.
If you would like to know the ins and outs of why we believe Collibra to be the best data governance tool in the market, check one of our previous blog posts. In a nutshell, it all comes down to Collibra being a flexible platform built for business users. A significant aspect of that flexibility is the possibility of creating custom workflows.
What exactly are Collibra workflows?
Collibra workflows are automated series of actions that help your business users collaborate on data assets and structure your governance processes, such as creating and validating business terms or resolving issues. They are an excellent feature to structure and monitor the process of creating and documenting your data assets and direct tasks to the right persons. Furthermore, Collibra workflows make it possible to send out notifications when action is needed from business users or mark all steps in the process till the completion of your process.
And what are the benefits you get?
The bottom line is this: while Collibra documents information about your data and makes it easy to retrieve, While Collibra helps you to quickly find, understand and really trust your data. Workflows are a key enabler to make this happen.
By leveraging automation, they allow you to keep pace with change.
Mobilizing your organization to encourage collaboration.
Enforce defined governance process in a guided and controlled way
Our certified Collibra Rangers can testify to that. Since we became a Collibra partner more than 6 years ago, we have noticed how workflows play a crucial role in automating tasks and helping business users feel much more comfortable with Collibra.
There may be one "but"
While many organizations have a strong need to start using workflows, they often struggle with a lack of in-house knowledge and resources to build and deploy them. If that's the case for your organization, we have excellent news. As of today, we are launching our new Workflow as a Service offering where you can outsource the development of your Collibra workflows.
So, what can you expect from our Workflow as a Service offering?
Normally, we focus on teaming up with clients to achieve longer-term business goals. However, in the case of Collibra workflow development, your problem statement can be very specific and readily be scoped. That's precisely why we launch this Workflow as a Service offering: our aim is to improve your Collibra experience by delivering Collibra workflows fast (typically just a few weeks from idea until development) at a fixed price.
And how would Workflow as a Service work for you?
Your company - let's call it Amplex - is looking for a structured way to create business terms and get them validated. You prefer to include custom attributes and send the person who needs to validate a specific business term a reminder if it takes longer than a week.
Your requirements are clear, but your team doesn't have the knowledge or the time to develop a Collibra workflow. Therefore, you decide to call on Datashift (we are Collibra customer impact partner of the year 2021 and one of the most experienced Collibra implementation teams in the world!) and try our Workflow as a Service offering.
Once your team has booked an appointment on the Datashift website, they will receive an invite for an intake call with one of our Collibra workflow experts. Your team will be asked to fill out a requirement form with all available information and deliver this form before the intake call takes place.
Datashift and Amplex introduce themselves during that intake call and discuss your team's requirement form. Our Collibra workflow expert asks questions so unclarities about requirements and design from both sides will be cleared out. Once this is done, workflow development can be started. If your team needs extra tips about the possibilities of workflows, we can schedule an additional feedback loop before we propose a fixed price and timing to Amplex.
Our Collibra workflow expert then details all technical specifications based on your requirements. If any additional questions arise during this phase, our expert will get in touch before we kick off the actual development of your Collibra workflow.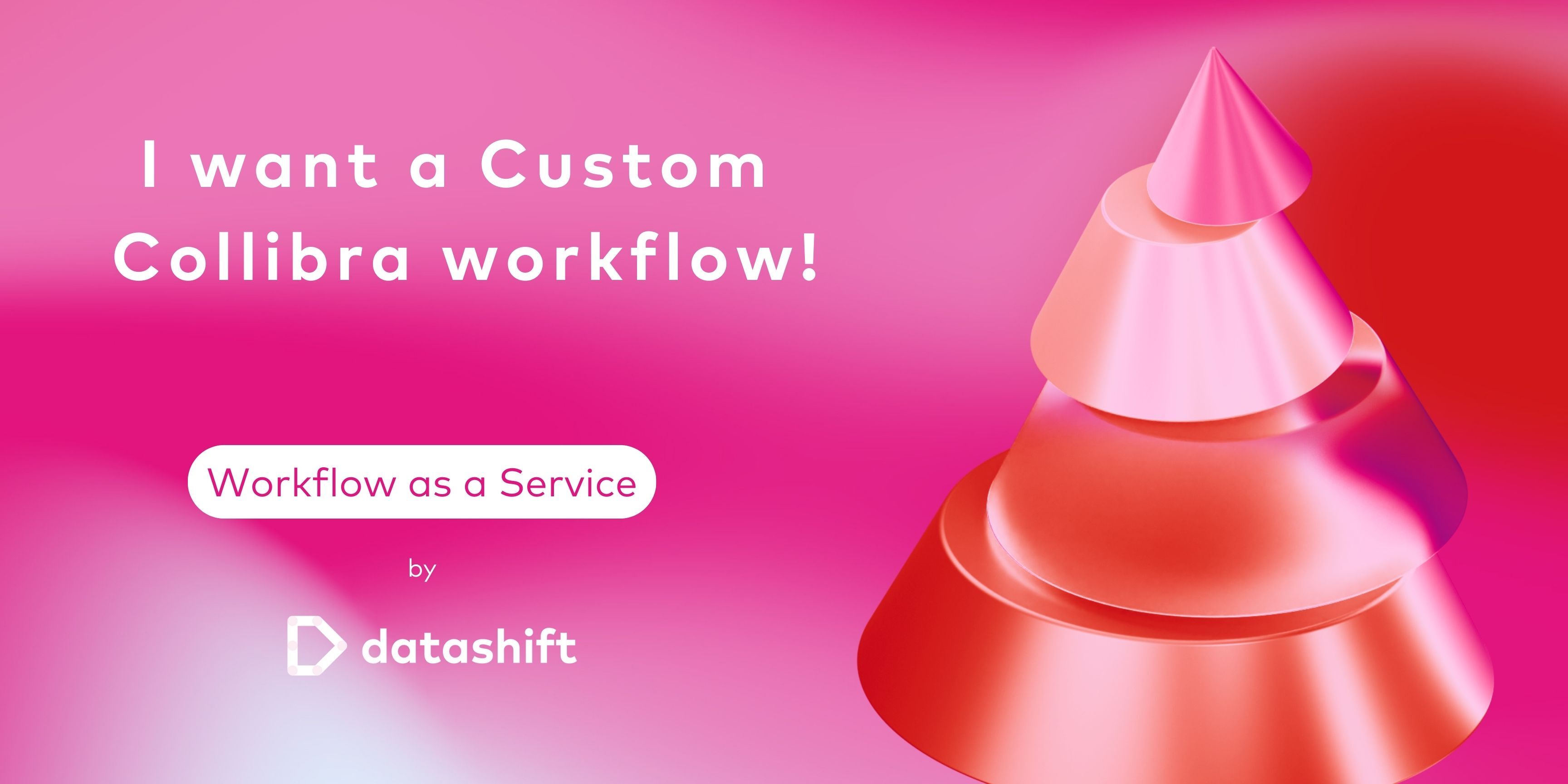 Once we've completed development, your team will be notified and invited to test the custom Collibra workflow. Based on their feedback, our expert can do some final refinements if necessary. After just a few weeks, Amplex is now ready to create and validate business terms in a structured way!
Interested?
Book your appointment now. Our Collibra workflow expert will be happy to take on your requirements and help you out!