Why Collibra is the best data governance tool
21 March 2023

Data governance is no longer optional. Businesses are on a path to data-driven decision-making and privacy laws are dictating the need for data integrity, security and compliancy. Choosing the right data governance software is an essential part of the road to data mastery. In this article we discuss why we believe Collibra is the best data governance tool in the market.
What is data governance?
Data governance is a set of principles used by organizations to ensure the quality and integrity of their data throughout the entire data lifecycle. It involves everything from the people, processes and technologies that are part of the data management within your company. It's the foundation that turns your data into a truly usable asset. A solid data governance framework consists of 6 important elements: data modeling & definitions, quality, lineage, responsabilities, security and access management.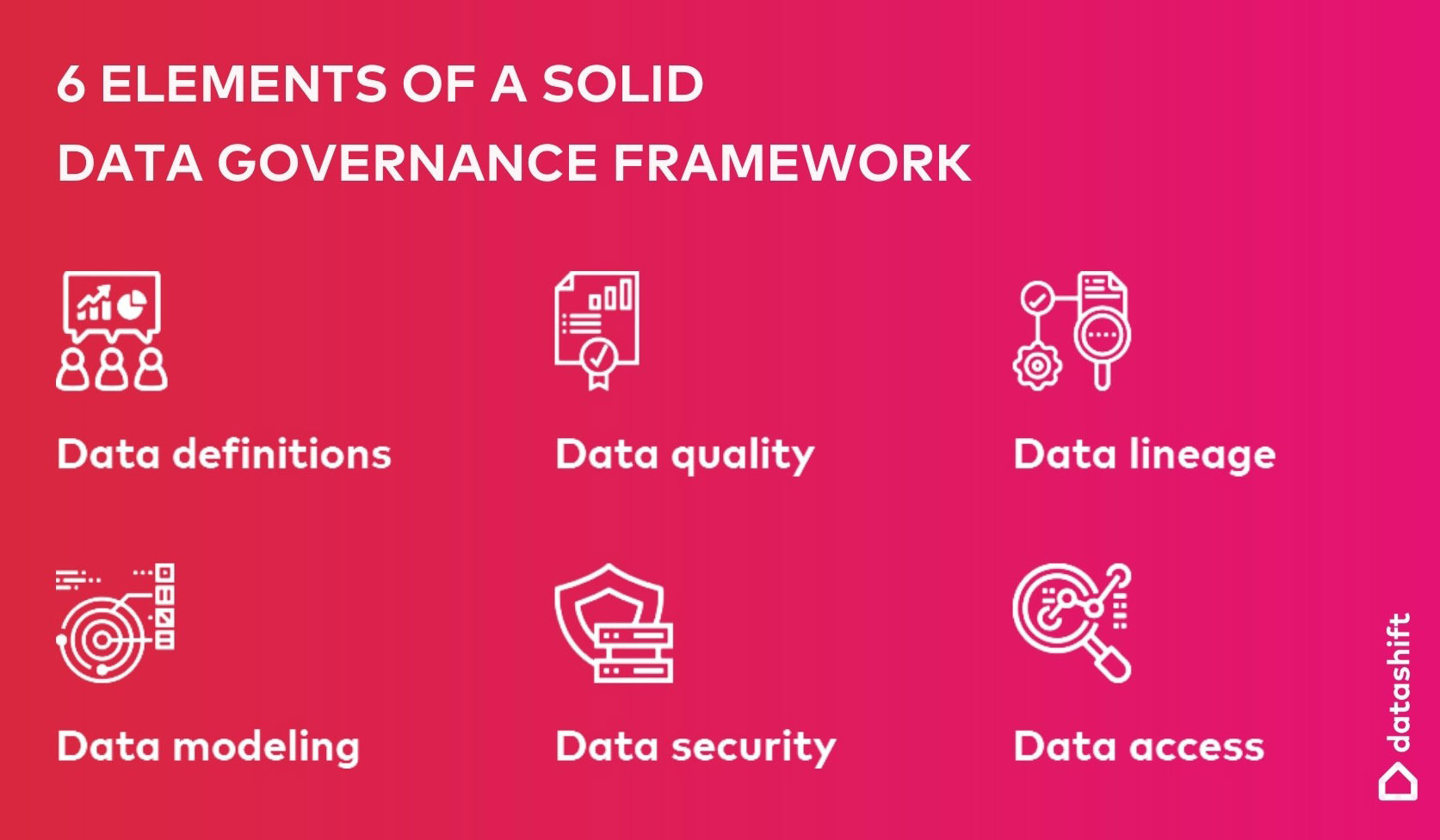 Why data governance is crucial?
Data is a core corporate asset that drives digital transformation and company growth. To use your data as an asset, you must be able to govern it. Data governance was initially looked at as a means to meet legal and compliancy needs. Today, it's at the root of turning organizations into well-oiled machines.
Data governance provides the framework, policies, processes and definitions of your data and basically sets the data standards needed to achieve your business goals. It's this framework that will ultimately lead to:
Cleaner and higher quality data
More accurate analytics
Better business decisions and results
Better positioning and a competitive edge
Higher revenue and profits
In reality, businesses are still struggling to put their data to work. Only 3% of the data in enterprises meets quality standards (Harvard Business Review). All the more reason to start today.
If we look at the data (pun intended), data governance has reached its peak popularity in 2023:
While it's a trending topic, the truth is that a lot of data governance projects fail. This isn't a big surprise considering the high level of complexity. Data governance runs through all levels of an organization and involves a big change management factor.
Starting a data governance program is not yet about a tool. However, in order to scale and generate true impact on your business, you will need a tool or platform. Turning your data governance project into a success begins with choosing the right tool for the job.
What capabilities to look for in a data governance tool?
One of the most important factors is choosing data governance software that is reliable, flexible and fits your business needs. While we have extensively explored possible solutions in the past, data governance tools are hard to compare purely based on features or capabilities.
Some key questions you'll need to address when selecting the data governance tool that's right for you:
What will be the main data governance use cases?
What is the ambition level?
How will you assure data governance processes will be followed?
How do you want people to search, trust and understand their data?
Have you got a cloud-first or cloud-native strategy?
What is the importance of data lineage?
How can you connect natively with your underlying data systems?
Considering the criteria above, we've listed the 3 key reasons why we consider Collibra to be the best data governance tool in the market.
A flexible platform built for business users
In the early days, data governance was strictly considered an IT matter. That's why the majority of data governance tools are built around the IT department. As a result, these solutions are very technical and don't speak "business", leading to high learning curves, bad usability and frankly, the opposite of what you want your business to run on.
The power of good data governance software is that it allows people across the organization to manage and maintain data. Collibra considers IT as just one part of the entire business, making data accessible and understandable to everyone. Managing data, is soon going to be a responsibility for everyone.
Collibra enables us to engage our business users better in the world of data. At the same time it offers great insights into our technical data landscape.
Zenobie Verkijk, Data Governance Specialist
The result is a very attractive, user-centric platform that allows swift and smooth access to information about your data (=metadata). Searching for data for instance, is one of the biggest hurdles in data-related activities. The search function within the Collibra platform is the best we've seen in any data governance tool.
Collibra basically comes as a building box that can be customized to fit your unique company culture and business reality. It's easy to reflect your organizational structure within the platform. Anyone entering a well-configured Collibra instance immediately recognizes its own departments, business units, personas and roles. In other words, the platform is built around your organization, not the other way around.
For example most businesses have a data entity "customer" that is used by many different departments, for example marketing, customer support and credit risk. For each of these departments you can create a "community". And Markus from marketing will be a user that's part of that community.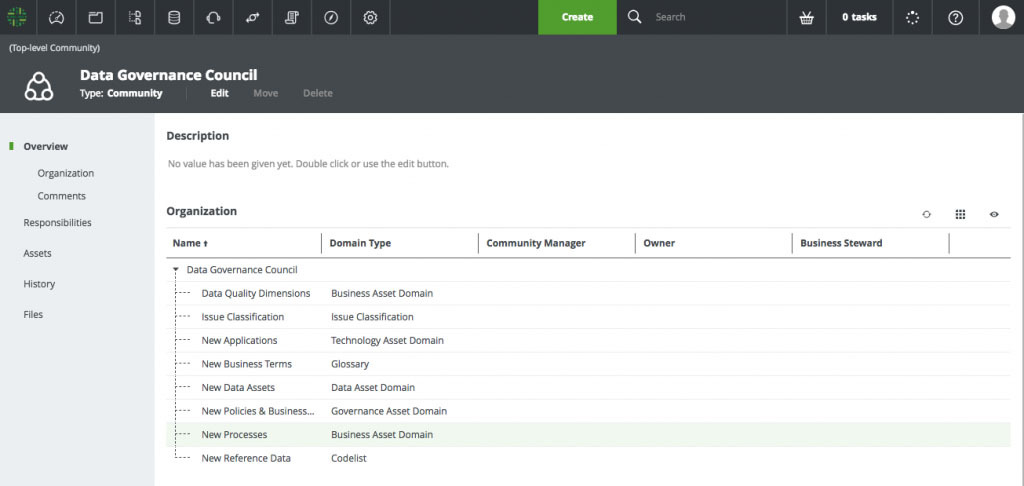 Collibra then allows you to clearly define the business term "customer" and who's responsible for it, leading to less miscommunication and less overhead.
Think big, start small
In its pure essence, Collibra documents information about your data and makes it easy to retrieve. Imagine you're in a big library and you need to find a book about clients. Well, the librarian will tell you to go to the second floor on the left, second row under "C", check! And that's exactly what Collibra does for your data.
Creating a library of all your data and documenting might seem like a big, daunting task. Collibra makes this very manageable by allowing you to document your data gradually. There's no need to organize a huge documentation exercise within your company. You build your data library step by step and grow it organically. After all, data governance isn't a one-off project, it's a continuous process.
A relevant example would be a company that wants to become GDPR compliant. They start documenting data from their BI reports by defining what the data is, which source the data is coming from, who the owner is and whether or not it contains personal or sensitive data. So instead of initiating a large project that might take years to finish, they start by gradually creating and extending their definitions and work their way towards a larger and larger library.
On top of that, you're working in a manner that's meaningful to your business and relevant to the business objectives. This way you can keep your long term vision in mind, but start with smaller, short term achievements, making your data governance manageable and much more likely to succeed.
Collibra brings out the best in BI tools
Last but not least, we've experienced first-hand how the best data governance tools strengthen the best BI tools. It's a magic combo! While BI tools like Tableau or Power BI are great at visualizing data and sharing insights, Collibra does a great job of governing and managing the data these tools work with.
By integrating the two, metadata from your favorite BI tool is automatically loaded into Collibra. This way, a lot of the manual labor that comes with documenting the policies and processes behind the data is eliminated. In turn, BI specialists can focus entirely on what they love doing, generating useful insights that move the needle for the company.
Did you know that Collibra was named visionary in Gartner's 2022 magic quadrant in the category Data Quality Solutions?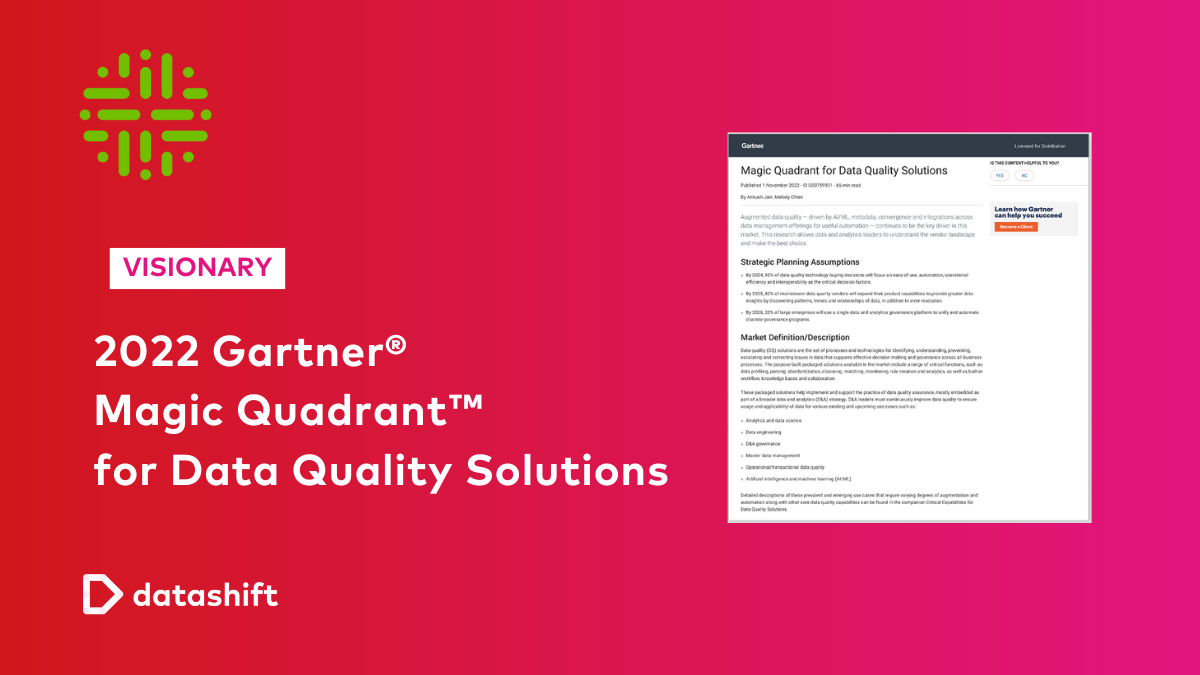 How we can help
We hope these insights have helped you a step further in becoming a data-driven business. As the premier Collibra implementation partner in EMEA, it's our mission to help companies grow by making sure their data is an asset, not a liability. Don't hesitate to reach out to talk to a Collibra specialist.